Do you want or need to incorporate?
CVOR is no longer your problem, it's mine ...
Hey, I never knew I need a CVOR in the first place.

Do I get it at ServiceOntario?

Who can take the test?

I mean, how hard can it be to put the truck on the road and get the wheels rolling?
And then it's one government hoop, followed by another, followed by another.
In the meantime, you've got business to run, projects to complete, customers to serve and bills to pay.
Having a business means you've got skills to be successful, and that means knowing which business you are in, and which business you are not. 
Some people install signs, some deliver food, some transport waste. Some people specialize in knowing how to make 'government headache' disappear and set you free.
So that you don't have to waste half of your day, add at least two more weeks to this project and roll the dice on getting a heavy fine for missing a silly piece of paper.
Three million dollar .. cash, and a helicopter ... you wish


Ultimately, you put your truck on the road .. the fastest way possible.
Now that includes getting through a few steps. 
First, you need to get a letter that says "Mr. Brown we want you to take the CVOR test". I will simply collect all the relevant information from you, and make sure that the letter is issued ..
the fastest way possible.
It is important to get this right. If a mistake is made, you will end up filling out a paper version of the CVOR application, and it will go into another processing pool, which  takes time. And if a correction is needed to the name or the address of the applicant, it will be sent off to a different office and add another 7-10 business days for processing.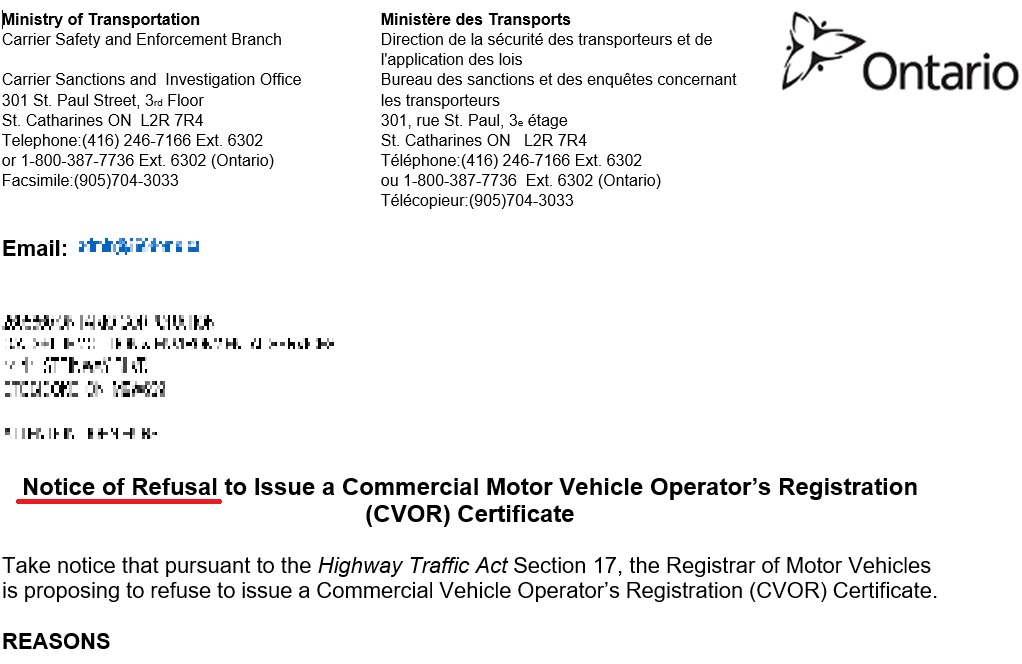 While CVOR application is being processed
In the meantime, you want to prepare yourself for the CVOR test. Easily taken care of by a course .. written by the one and only, based on live 1-1 trainings  of business owners like yourself.
I know you have not gotten into working for yourself to do multiple choice tests, but it is what it is. You sit through it, go through a bunch of training questions and you pass with flying colours.
Did you know that 50% of business owners overpay on their license plate fees?
Also in the meantime, some homework has to be done in order to license the truck(s) when the authority is issued.
Protect from fines on the road:
In vehicle documentation
In vehicle forms and schedules
Clarify name and decals questions (CVOR Vehicles need to be marked; CVOR Number display is not formally required)
In vehicle driver checklist
Double check you or your driver has an appropriate license (some people may need to upgrade to A-Restricted)
Ask you questions you never knew to ask
CVOR rating will determine:

your insurance rate fees
how often your truck is inspected on the road (having a CVOR vehicle is the reason for inspection)
safety audit priority


Once your CVOR is in place, you want to keep it in good shape
I will answer all your CVOR question within a year of purchase (unlimited access to a safety consultant)
Protect you from failing a facility audit (provide templates for)

Driver Qualification Files
Hours of Service Records
Vehicle Maintenance Files
Preventative Maintenance System
Collision File (setup)
Business charged, because driver bypassed truck scales
Ensure there a systemic approach to safety:
Safety System: Event-Triggered Action Items
Safety System: Recurring Action Items
In a nutshell, you get a CVOR authority and a peace of mind
Mario with an RV - personal exemption
Mario phoned after failing to plate his RV at Service Ontario. He was told that he required a CVOR . He was upset and overwhelmed after doing research on the registration process (and by the fact that he couldn't use his RV). 
I explained that his personal RV is exempt, even if it's over 4,500kg. To make sure things go 'relatively smoothly' at Service Ontario next time, I had sent him a portion from HTA that stated the exemption his vehicle fell under. 
This was a no charge transaction, but Mario surprised me with a hand-written 'thank you' note... What a nice touch.
Straight Truck Operation - Did not qualify
A gentlemen had called me, because he wanted to get his CVOR license as soon as possible. He was a new immigrant to Canada. He got his A-Z, but did not have driving experience.
He was promised that if he buys a straight truck, there is a load waiting for him and the pay is $800 day or $24,000 a month.
Waterdon Construction
had expanded their operation and acquired 2018 Isuzu NRR. Richard was quite busy handling construction projects and decided to delegate CVOR setup to me. 
The anticipated start date of a truck was two weeks from contact. 
The company had obtained their license on time, and all office paperwork was setup.
Chris from All Crete
Took over family landscaping business. He wanted to upgrade his truck weight and required a CVOR. He also wanted to upgrade from a sole-proprietorship to a corporation. Chris was able to get his required paperwork and licenses without being distracted from his busiest time of the season. In the process we realized that CVOR was only part of the puzzle, since his trailer required Chris to get A-restricted license.
Chris from Horizon Sheet Metal
Was renting trucks from a rental company on a project by project basis. The rental company had a change of policy, and they were no longer offering to rent their trucks without a CVOR. 
Chris had also purchased a new pick up truck and a trailer for his ATV. Chris was not sure, if his own pick-up truck requires CVOR as it was registered for RGVW of 11,000kg. 
I had clarified with Chris the type of license that he requires for his truck, the fact that his personal truck used for personal purposes was exempt. 
We had also prepared CVOR side of things so that his guys could rent truck without disruption to the business.
Rick from Champion Hydrovac
After a regulatory change HVAC trucks were no longer exempt from CVOR. Rick was a little late to the party and contacted me two days before the deadline.
His operation resumed without interruption, and in due course his company was brought to 100% compliance.
Chris from Rettie Utilities
Chris has bought out 8 units from Badger North, and required to have his own authorities in place.
I took care of his CVOR setup, while he handled future bookings and smooth transition.
Frank from Import Temptations
An owner of luxury furniture store who purchased an in-house delivery vehicle (the furniture he sells is really expensive). 
Frank was busy moving inventory, and decided that outsourcing CVOR setup is a good choice for him. Given his operation and how long the truck was sitting in the parking lot I agreed. 
Frank's truck is delivering furniture to happy customers for ... two years now.
Ray from 85 Electric
An electrician by trade, Ray had acquired a heavy vehicle as part of a payment for a bad loan. 
Ray knew the price for poor compliance and wanted to ensure everything will be done according to the law.
On April 1 2019 he informed that his process is complete.
Ron from Roxy Transport
Had to obtain his CVOR during global pandemic.
90 Day Satisfaction Guarantee
I want you to feel safe and secure that once you have invested in the service, you will get your CVOR operating authority, achieve 100% compliance, and will be protected from fines and triggering facility audit.
And you will... but I also have a 100% secure guarantee, just in case you need a little more peace of mind...
Here's my guarantee: Invest in the turn-key package, and provide me with the information required, and I will do the rest. If you aren't completely satisfied by your results after 90 days, just let me know via a phone call, so I know what to do differently or better next time, and I will happily refund your entire fee and give you all your money back.
Why would I offer a guarantee this strong, and let you keep any progress results at my risk?
These days, business and life are very dynamic. If you invest fully in the turn-key package and later on a valid reason to change course comes up, then I believe it's not your fault, and you deserve your money back.
I can't think of a more fair and reasonable offer than that.
---
Want or Need to Incorporate?
CVOR Turnkey - Program Fee
Incorporation is not required
A number of clients had suggested to provide contact information in a more visible place. 
So here it is:
andrew@cvortest.com
Andrew's "notches on the belt"
12 MTO audits
27 US DOT audits (CVOR for USA) and counting
97 Turnkey clients
18 years in the industry
13 years of running a trucking business
350+ drivers trained
As of January 1st 2022
My job is to get things done, while staying out of your way.